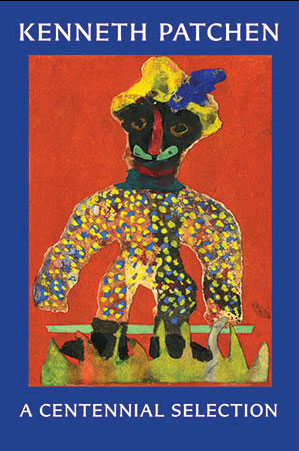 "I am ambitious in a large sense," wrote Kenneth Patchen to Thomas Wolfe in 1937. The young writer went on to justify his claim, producing over two dozen volumes of poetry and prose, along with painting-poems, silkscreen prints, drawings, and other graphic works. Patchen, one of the 20th century's leading experimentalists, gained widespread attention and notoriety through such books as The Journal of Albion Moonlight (1941). His readings of poetry with jazz were a phenomenon in the 1950s. Almost 40 years after his death, Patchen's works continue to intrigue and in- spire lovers of modern literature and art worldwide.
Patchen, born in 1911 in the Ohio steel-mill town of Niles, lived and wrote mainly on the East Coast until 1950, when he and his wife, Miriam, moved to San Francisco. Living in North Beach, he created his well-known "painted books" and performed poetry-jazz in the City's avant-garde clubs. A crippling back injury restricted his activities in the late 1950s; the Patchens moved to Palo Alto, where he continued to write and paint until his death at age 61. Printer and photographer Jonathan Clark, editor of this centenary selection, befriended Kenneth and Miriam Patchen as a teenager in the 1960s. He helped establish the Patchen archive at the UC Santa Cruz library and eventually served as executor of the Patchen estate.
Clark has selected poems, drawings, and paintings spanning the author's entire career. Verses well-known and obscure appear, along with drawings and painting- poems, some reproduced for the first time in color. This Kelly's Cove Press edition is a worthy celebration of one of the most intriguing figures of American modernism.
"This selection of Patchen's best by one of his intimates is clearly a gift and tribute to the man and his work…" — Larry Smith, New York Journal of Books
Kenneth Patchen is and will remain one of the outstanding figures in American Letters. . .  No one can read him without being affected and influenced in his own life and work." — Henry Miller
"I worked with a poet named Patchen. He was wearing a scarlet jacket & sitting on a stool . . . . We improvised behind him while he read his poems, which I read ahead of time. 'It's dark out, Jack'—Patchen's a real artist, you'd dig him doctor." — Charles Mingus, from Beneath the Underdog