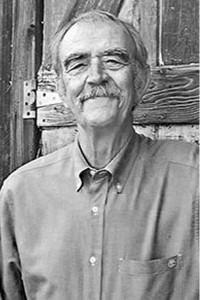 William T. Wiley, born in Bedford, Indiana, in 1937, studied at the California School of Fine Arts (now the San francisco Art Institute), where he received his B.F.A. in 1960, and his M.F.A. in 1962.
Wiley's work involves a wide range of media, including drawing, painting, prints, assemblages, sculpture, film, and performance art. Precocious, Wiley had his first solo exhibitions at 23, at the Staempfli Gallery in New York and the Hansen Fuller Gallery in San Francisco. He joined the noted art faculty at the University of California, Davis in 1963.
In 1975, Wiley created his persona "Mr. Unnatural," who has appeared in a hilarious series of portraits of the artist as an idiot savant, with dunce cap, kimono, and geisha sandals.
Wiley's work was chosen for the Venice Biennial in 1980, and the Whitney Biennial in 1983. He's had major exhibitions of his work as the San Francisco Museum of Modern Art (1981), the de Young Museum, San Francisco (1996), and the Corcoran Gallery of Art, Washington, D.C. (2005). A retrospective of Wiley's career, titled What's it all Mean: William T. Wiley in Retrospect, opened at the Smithsonian in 2009 and moved to the Berkeley Art Museum in 2010.
The artwork of William T. Wiley is featured in Kelly's Cove Press titles A Raid on the Oyster Pirates, and What Lures the Foxes.